Curvy Fence Panel – High Strength and Visibility, Beautiful Appearance
Curvy fence panel has strong structure and attractive surface for site security.
Download Catalog
Curvy fence panel is a security and attractive fence with beautiful appearance, and it is ideal for residential area and entertainment venues.
Curvy fence panel can also be called 3D fencing. It is mostly made of stainless steel or carbon steel. Firstly, the workers weld the wires into panel, and then adopt bending machine to bend the wires on the short side of the rectangular shape, so the V-shaped curves are produced. It is important to note that the quantity of V-shaped curve depends on the height of welded wire panel. This uses the principle of triangle stability to provide additional strength and rigidity for the panel. In addition, curvy fence panel can be installed on flat areas or slopes, and it can also be applied in a variety of different land types such as general land surface or sand.
With stable, durable and flexible structure, curvy fence panel is widely used as fence in airport, school, factory, residential area, garden, warehouse, stadium, military venue and entertainment place. We can install the lower curvy fence panel in general place, but in military venue or prison, the height of curvy fence panel should be higher, you can choose the suitable height according to your application.
Feature
High strength, the triangular structure makes the panel more strong and rigid.
Anti-corrosion, anti-rust and weather resistance.
High visibility.
Beautiful appearance, the V-shaped bending curves and various colors make curvy fence panel attractive.
Can be installed in many lands, such as concrete, slope, general land surface, sand or rock.
Easy to install, curvy panel fence can be easily connected with the post.
Long lifespan, the coating covers the entire panel and accessories.
Specification – Curvy fence panel

Material

carbon steel wire, stainless steel wire.

Surface treatment

galvanized, polyester coated, PVC coating.

Wire diameter

2–6.5 mm.

Spacing between vertical wire (mm)

50, 55, 60, 75, 80.

Spacing between horizontal wire (mm)

50, 100, 150, 200.

Panel width

1.5–4.0 mm.

Panel height

0.6–3.0 m.

Curve quantity

2, 3 or 4.

0.6–1.3 m, 2 curves.
1.3–1.6 m, 2 or 3 curves.
1.6–1.9 m, 3 curves.
1.9–2.1 m, 3 or 4 curves.
2.1–2.4 m, 4 curves.

Color

RAL 6005 green, RAL 9005 black, RAL 5010 blue, RAL 3000 red, RAL 9010 white. All RAL color can be customized.

Installation method

flange or directly buried in the ground.
Specification – Curvy fence post

Material

high grade steel for maximum strength and rigidity.

Post type

square, round, peach.

Post dimension

Square (mm): 40 × 40, 50 × 50, 60 × 60, 70 × 70.
Round (mm): 38, 40, 42.
Peach (cm): 5 × 7, 7 × 10.

Post plate thickness

1.0–3.0 mm.

Color

same as panel.

Post cap

metal cap or plastic cap.
CFP-01: Fence clips for the fence fixation
CFP-02: Curvy fence square post.
CFP-03: Curvy fence round post.
CFP-04: Curvy fence peach post.
Package
Panel: wrapped with plastic film in carton box and then put on metal/wooden pallet.
Post: wrapped with plastic strip and in bulk or on metal/wooden pallet.
Accessories: placed in carton box.
CFP-05: Curvy fence panels are wrapped with plastic film.
CFP-06: Curvy fence square posts are on the metal pallet.
Precautions for installation
Before installation, the construction department should be familiar with the location of the various pipes buried in the underground to prevent the underground facilities from damaging.
During the construction, the burial of the posts should be carried out in stages. Firstly buried end posts, and then buried the middle post.
If you want to put the posts into concrete, firstly you should drill holes on concrete surface, and then put the posts into it, finally pour the liquid concrete into the hole. During this time, remember to set up temporary cable or support to hold the posts in suitable place until the concrete is hardened.
The posts buried in the ground for a minimum of 0.5 m and a maximum of 1.2 m.
Spacing between posts would better be 0.3 m.
Application
Curvy fence panel can be used in many place, such as:
Airport.
Parking lot.
School.
Factory.
Residential.
Hospital.
Garden.
Warehouse.
Stadium.
Military venue.
Station.
Entertainment place.
CFP-07: Curvy fence panel in court.
CFP-08: Curvy fence panel in parking lot.
CFP-09: Curvy fence panel in garden.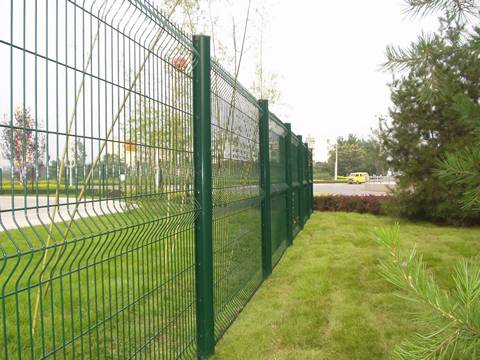 CFP-10: Curvy fence panel on lawn.
CFP-11: Curve fence panels are installed on slope.
CFP-12: Curvy fence panel in playground.
CFP-13: Curvy fence panels are installed near the toll station.
CFP-14: Curvy fence panel in residential area.
CFP-15: Curvy fence panel is suitable for concrete.
CFP-16: Galvanized curvy fence panel.