PVC Coated Welded Wire Mesh
Introduction:
PVC welded wire mesh is also known as: Dip welded wire mesh. High quality welded wire, the PVC or PE, PP powder coating surface treatment after curing, has a strong adhesion, good corrosion resistance, bright color, and so on.
Material:
PVC Welded Wire Mesh is made of high quality of welded galvanized iron wire mesh, which is coated with PVC powder by automatic equipments. The coated layer has good anti-corrosive property, which is widely used in daily life.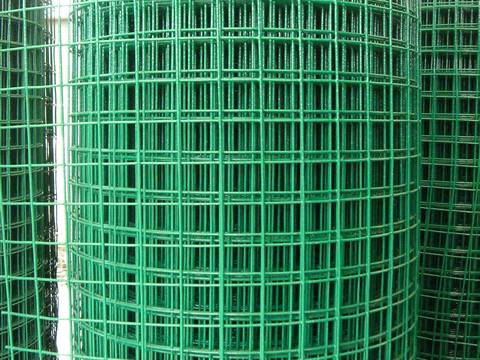 PWWM-01: PVC coated welded wire mesh.
PWWM-02: PVC coated welded wire mesh in different colors.
Colors:
Usually the color is blue, green, red and yellow. Moreover the color could be ordered according to customers' specific requirements.
Property:
PVC Welded Meshes enjoy many properties, such as corrosion resistance, acid resistance, alkali resistance, aging resistance, sunshine resistance and weather resistance. Beside this kind of product has a beautiful appearance and a long service life.
Forms of corrosion resistance include electric galvanizing, hot-dipped galvanizing, PVC spraying and PVC coating.
Applications:
PVC Welded Mesh serves as guards in buildings and factories, as animal enclosure and wire mesh fences in agriculture; welded wire mesh also serves in horticulture industry as guards for trees and plants.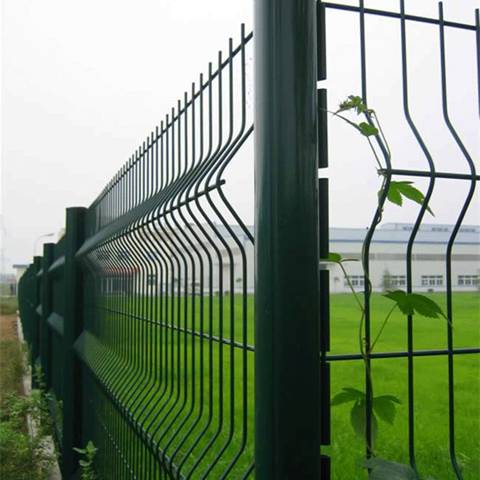 PWWM-03: PVC coated welded wire mesh as security fence.
PWWM-04: PVC coated welded wire mesh as gate of the security fence.
PWWM-05: We have large quantity of PVC coated welded wire mesh in stock.
PWWM-06: Package of PVC coated welded wire mesh.
Specifications:
Table 1: Specifications of PVC Coated Welded Wire Mesh
Item
Wire Diameter
Mesh
PWWMS-01
2.2/2.6 mm
4" × 4"
101.6 mm × 101.6 mm
PWWMS-02
2.2/2.6 mm
4" × 3"
101.6 mm × 50.8 mm
PWWMS-03
2.0/2.5 mm
4" × 2"
101.6 mm × 50.8 mm
PWWMS-04
1.9/2.4 mm
3" × 2"
75 mm × 50.8 mm
PWWMS-05
1.9/2.4 mm
2" × 2"
50.8 mm × 50.8 mm
PWWMS-06
1.9/2.4 mm
2" × 1"
50.8 mm × 25.4 mm
PWWMS-07
1.6/2.1 mm
3" × 2"
75 mm × 50.8 mm
PWWMS-08
0.8/1.1 mm
1/2" × 1/2"
12.7 mm × 12.7 mm
PWWMS-09
0.8/1.1 mm
3/4" × 3/4"
19 mm × 19 mm
PWWMS-10
0.6/0.9 mm
1/4" × 1/4"
6.35 mm × 6.35 mm