Welded Wire Fence Has High Security, Beautiful Surface, Anti-Corrosion
Welded wire fence is a kind of high security fencing system. Low carbon steel wires are welded into fence panel in rectangular or square mesh openings. Coarse wire diameter and firm structure is strong enough to protect the safety and prevent people from fleeing in community, school, prison, park, airport and many places. Our welded wire fence with galvanized and PVC coating surface treatment is not easy to be corroded and rusted under any bad circumstances. And our welded wire fence with good flexibility can be installed easily in any places. Compared with woven wire fence, welded wire fence has stabler structure and longer service life.
In addition, welded wire fences not only have these practical features but also have many aesthetics. We provide various types and colors welded wire fences for you to protect safety and decorate your buildings in many places.
Features:
High strength, high security.
Firm welding spots, not easy to be damaged.
Smooth welding spots, can't hurt people.
Corrosion resistance, wear and rust resistance.
Uniform opening.
Easy to install and maintain.
Various types and specifications.
Application:
Community.
School.
Playground.
Park.
Garden.
Roadside.
Highway.
Railway.
Airport.
Shipping port.
Factory.
Farm.
Farmland.
Zoo.
Construction site.
Prison.
Army.
Borderline.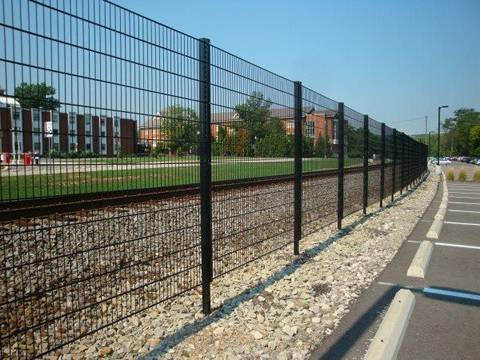 WWF-1: Welded wire fence in railway
WWF-2: Curvy fence panel in park
WWF-3: Double wire fence panel used in community
WWF-4: 358 high security fence installed in school
WWF-5: Welded temporary fence in construction site
WWF-6: Welded euro fence in garden
Categories: